Senior League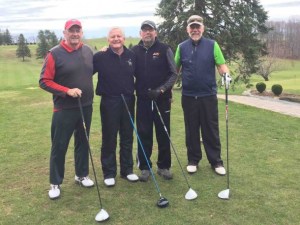 The Senior Golf League plays on Tuesday mornings throughout the season. Tee off times range between 7:30 AM and 10:00 AM, with occasional lunches and fun! This league enjoys a barbecue after a scramble tournament in the middle, and at the end of the season.
T.G.I.F. Scramble League (This Golf Is Fun!)
The T.G.I.F Scramble League plays on Friday mornings starting in May! Play starts at 8:20 am. With an official handicap, golfers mix it up with various types of scramble formats from week to week! No need to commit to the whole season.  Now accepting new players!
The Middlefield League
The Middlefield League plays on Wednesdays at 3:30, and has been a tradition at Indian Springs since the 1960's. Email us at info@indiansprings-golf.com to sign up as a sub.
Saturday Men's Club
Our Saturday Morning Men's Club typically meets for a quick 9 holes teeing off between 7 AM and 9 AM weekly.  Kick off the weekend right with a fun, competitive 9 holes.  Optional skins and closest to the pin contests are run.  No need to show up every week, but many folks do!  Email us at kathy@indiansprings-golf.com to sign up!
Couples' League
Our Couples' League plays on Sunday afternoons at 3:30. Various Scramble formats keep it interesting & fun. No commitment necessary, at least for the golf! Email us at info@indiansprings-golf.com, grab your honey & get swingin'!
---
Women's Leagues
Ladies' League
This competitive but friendly ladies golf league meets every Friday at 4:50 beginning in late April, and continues through September. The league has approximately 20 members.
Several tournaments are offered on Saturdays:
member / member
ABC
pinkball
scramble
club championship
member / guest
Yearly dues of $50.00 enables each member to receive a USGA handicap.
The league encourages new members to play as subs. Subs may also participate in tournaments.
---
After-Work Leagues
If you have a group of golfers willing to commit to weekly play, we welcome your league, and offer competitive pricing! Call or email us to arrange the details!
Mondays:
4:00-4:30 RPO League
4:40-4:50 Catic Attorneys
Tuesdays
4:00- 5:00 Covid 24 League
Wednesdays
3:20-5:00 Middlefield League
5:10-5:40 Admor Builders Divot League
Thursdays
3:20-4:30 Zygo Corporation
4:40-5:20 Choate
Fridays
THIS SPACE IS AVAILABLE FOR A NEW LEAGUE  until 4:50
Email us at Info@IndianSprings-Golf.com if you are interested!
4:50-5:20 Ladies' League
Youth Summer League 2021
This Relaxed Youth Summer League plays on Mon, Tues (Girls Only), or Wed evenings from 6-8pm for 5 weeks during the summer, culminating in a fun, non-competitive "tournament" and BBQ. $169 includes all. Kids ages 7-14 are welcome to join in the fun! For more information click here!