Indian Springs Golf Course is a meticulously maintained public 9 hole course opened in 1964 by Alan S. Parmelee. It has served the town of Middlefield for almost 60 years. Minutes from I-91 in Central Connecticut, the Springs is conveniently located and easy to reach. With sweeping views of the surrounding countryside, lovely perennial flower gardens, and scrupulously maintained tees, fairways and greens, this little piece of heaven will keep you coming back.
Jen and John, Alan's daughter and son, took over management of the 9 hole course in 2000, and initiated numerous improvements. They updated the driving range, overhauled the first tee area, and installed a putting green behind the clubhouse. 2013 saw the completion of the renovated clubhouse and bar, as well as the addition of a lovely back patio with views of the golf course. They opened the Fairweather Cafe, which offers lunch and dinner throughout the golf season. In 2017 they installed a large solar array that supplies renewable electricity for the clubhouse, irrigation pumps, and several electric golf carts. Traps, tee boxes, and landscaping have been continuously updated. 2022 sees the completion of a new deck on the clubhouse.
John and Jen's mother, Jane, works tirelessly on maintaining the perfection of the greens, and yes, they are among the best in Connecticut! Golfers rarely get past her without a hug (especially when they fix their ball marks!)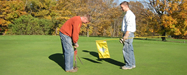 Although many of the fairways on this course are wide and forgiving, there are a number of blind shots to test your skill and accuracy! Play here is generally fast-as the greens can be. Be prepared to use every club in the bag.
Hole #2 is a 446-yard par-5 that will lead you up over a scenic hilltop, and then to a challenging sidehill approach to a green guarded by sand traps.
The fifth is a par-5, measuring 552 yards, featuring a fairway that skirts the woods and is followed by a sharp dogleg right, dropping steeply down to the green, which is backed by trees.
You will always feel welcomed and challenged at Indian Springs and enjoy a great day in scenic central Connecticut. Contact us for information or for any questions.